(Blog post created or updated.)

Line 1:
Line 1:
 

[[File:Abrams_eots.png|center|400px|link=]]

 

[[File:Abrams_eots.png|center|400px|link=]]

−

[[Empire of the Sun]] has a lot of fans, but it's still pretty cool when one of them is JJ Abrams! The ''Star Trek'' director and creator of ''Lost'' said, "Empire of The Sun ... "make music that gets stuck in my head, and then it's in my head all damn day...They're awesome."

+

[[Empire of the Sun]] has a lot of fans, but it's still pretty cool when one of them is JJ Abrams! The ''Star Trek'' director and creator of ''Lost'' said, "Empire of The Sun ... "make music that gets stuck in my head, and then it's in my head all damn day...They're awesome."

 
 
−

How cool is that?? Here's a clip of him saying it and talking about Empire of the Sun (listen from 7:14 on for the music bit)!

+

How cool is that?? Here's a clip of him saying it and talking about Empire of the Sun (listen from 7:14 on for the music bit)!

 
 
 

<verbatim>JJAbrams</verbatim>

 

<verbatim>JJAbrams</verbatim>

Line 11:
Line 11:
 

[[File:Empire Of The Sun - Discovery (Trailer)|center|600px]]

 

[[File:Empire Of The Sun - Discovery (Trailer)|center|600px]]

 
 
−

<br/>

+

<br/>

 

And here is the music video for "Alive"!

 

And here is the music video for "Alive"!

 
+
 

<center><verbatim>AliveMV</verbatim></center>

 

<center><verbatim>AliveMV</verbatim></center>

 
 
 
+

==Wikian Poll==

 
+

<poll>

 
+

What do you think about JJ Abrams' involvement in the band's new project?

 
+

Super excited even if it's just a division of his company!

 
+

Don't really care because I would love it even if JJ Abrams wasn't involved.

 
+

Bad idea! He's not going to do the music justice!

 
+

</poll>

 
 
 

==Sources==

 

==Sources==

Line 22:
Line 30:
 
 
 

{{w:EntBlogFooter}}

 

{{w:EntBlogFooter}}

 
+
 
+

__NOEDITSECTION__

 

[[Category:Blog posts]]

 

[[Category:Blog posts]]

 

[[Category:News]]

 

[[Category:News]]
---
Revision as of 18:22, 30 May 2013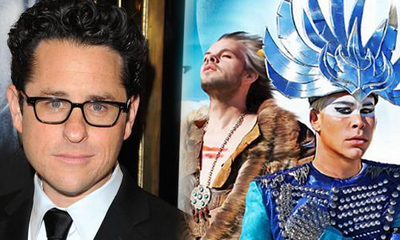 Empire of the Sun has a lot of fans, but it's still pretty cool when one of them is JJ Abrams! The Star Trek director and creator of Lost said, "Empire of The Sun ... "make music that gets stuck in my head, and then it's in my head all damn day...They're awesome."
How cool is that?? Here's a clip of him saying it and talking about Empire of the Sun (listen from 7:14 on for the music bit)!
Empire of the Sun duo Luke Steele and Nick Littlemore think it is! Littlemore also revealed, "He believes in this crazy little dream we've got," confirming that the director is making a film for each track on the new record telling the story of their characters The Emperor and The Prophet. The teaser trailer for Alive, which was recently released, was called "Discovery" and was produced by Bad Robot, JJ Abrams' production team.
Check out the teaser:

And here is the music video for "Alive"!
Wikian Poll
Sources