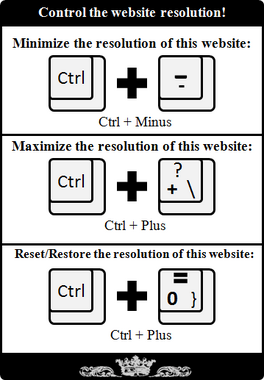 Are you unable to see the whole page?
Yes - I am unable to see the whole page, and would appreciate to get some help how to eliminate this problem.
Ofcourse! Let's help you out!
The website was made on a 20" inch+ screen, which made we created all of the design on this website for a 20" inch+ screen resolution, but ofcourse we thought about the laptop and smaller screen users aswell!
The website is fully functional on any screen resolution really, but it may be a little annoying when you want to see the whole website, or simply want to access your account on this website more easily, but you have no idea how!
Well, we here at Empire of the Sun Wiki are working on fixing an automatic solution for the laptop users, but for now there is a manual way to eliminate this little issue!


To bypass this issue, simply click CTRL + - (minus) and the resolution of this site will change for a pleasant viewing for your laptop computer.
If you click the same button more than once, the website will become smaller and smaller, so it can fit any screen available!
To reset the size of the website, simply press CTRL + = (equals) and you'll find yourself with the original size of the page!
If you still do not understand, please look at the picture we included on the right.
Simple and really functional!
Sorry if this caused you confusion! but hopefully we helped you enough to get satiscfied! thank you for taking your time! / The EOTS Wiki team