Empire of the Sun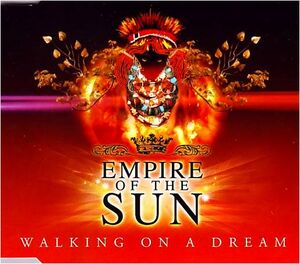 Origin:
Australia

Genres:

Synthpop

Synthrock

Years active:


2007 - present

Labels:


EMI

Associated acts:





The Sleepy Jackson
Pnau
Teenager
Members:


Websites:


Empire of the Sun is the Australian electropop-duo band with Luke Steele and Nick Littlemore.
Together they created the debut album Walking on a Dream which became an instant success.

(...and from now I let YOU all edit this page! Create the article with the help of these articles: Luke Steele, Nick Littlemore, Empire of the Sun [on Wikipedia] and create an amazing article for everyone to read! This is my challenge to you - citizens! so let's get this started! and this may be the good way to begin your big journey on this site!
Don't be afraid to let your imagination come into your soul, make this article with amateur, emperian or royal feeling and we'll fix the rest so it gets that "EOTS Wiki Touch" into it! Good luck everyone! and remember... the Singles pages are also in need to get more content! and if you get confused... DON'T WORRY! just contact me and I'll help you the best way I can! /Daniel The creator of EOTS Wiki)
About
(Write what the empire is all about!)
The rise of the Empire
(Write how the empire started, who made that Luke & Nick met and so on, end this article with their plan to start a debut album, and then on start with writing about the creation about the debut album in the category underneath this one.)
The debut album
(Tell us how the album got created, and which success it made. remember that it's important that you mention producers, writers and the years when the singles and such came out. also! mention all of the special / deluxe editions which came out too!)
Discography
(Write about the tracks, albums [notice the special/deluxe editions] here! - a good tips is that you can use tables for such things when needed!)
Awards & Nominations
(Show off all the nominations and the awards the empire has won! and don't forget to write a little info about the festivals and such, but also here the good tip above is also working! - tables are a great way to keep everything organized!)
ARIA Awards
(Write about the ARIA Awards! - Include awards and nominations in tables too!)
APRA Awards
(Write about the APRA Awards! - Include awards and nominations in tables too!)
External links:
(Add external links here, sometimes you will not be able to add links, so be sure to contact us to get your link included into the article.
Be sure to add your request underneath the line "Add Link Requests" Thanks.)